A safe return to the office is on the forefront of everyone's mind.
We are here to help offer advice and support to return your staff to the office safely.
After a global disruption that we have all experienced there is a need for a clear and decisive strategy for business leaders to begin to return staff back to the office, assuring them they are safe & their health & wellbeing is a priority in the office environment.
Our approach will look at the return transition from a practical, physical, mental, social & an emotional point of view. Here are some tips that form the basis for the support we are providing businesses to get return ready.
Consider the working space you have.
Re-space plan your office & establish flexible working:
Remote work options
Alternate shifts of A/B team schedules
Phase employees' return to work in stages
Clearly document flexible space usage:
Assign seats and storage for individuals
Dedicate meeting spaces and neighbourhoods for teams
Other areas within your space.
Change how meeting rooms work:
Consider repurposing meeting rooms to desk space
Reduce meeting participants
Utilise technology more
Use technology:
Meetings can still have the right number of participants, you may just need to video conference two rooms at once
Ensure touch panels are regularly cleaned
Moving around your space.
Getting from A to B:
Enforce a one-way system where possible
Stay to the left in corridors and between desks
Stay alert – don't walk whilst on your phone
One at a time:
Toilets should be used on a one in one out regime
Tea points should be used one at a time
Make your own food and drink
Homeworking is now more part of the office environment
Stay connected with your staff:
Provide more opportunities to collaborate through Skype for Business or Microsoft Teams
Introduce space for VC opportunities
Mobile screens to bring staff into the space
Morning scrums are now essential to not lose touch
Face to face time isn't just for shop talk, emotional connectivity is more important when remote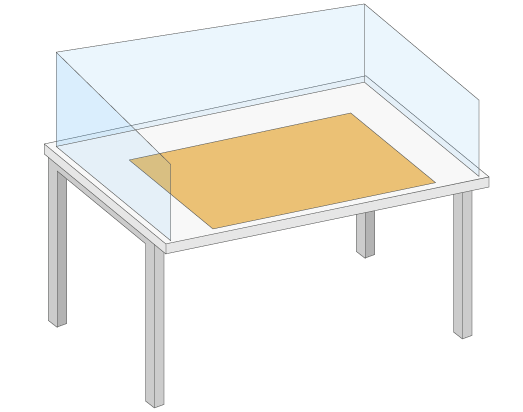 Enhance what you have.
Furniture Solutions & technology:
Perspex screens for desks
Disposable desk mats
Power poles for working away from desks
Moveable space dividers
Mobile vc units to connect homeworkers
Floor standing screens for changing space usage
Mobile units to keep a distance whilst collaborating
Health & cleanliness.
Direct staff safety & support:
Supply your staff with disposable face masks
Screen staff temperatures upon arrival
Supply hand sanitiser stations
Promote good habits:
Implement daily cleaning & sterilisation protocols
Post visible reminders to wash hands
Supply hand sanitiser and disinfectant wipes
Provide personal mugs, water bottles and dishwashers with Sani-wash cycles
Support from our print partners
Reminders & guidance:
Hand sanitiser guidance
Social distancing reminders
Company policies
Support pamphlets
Wayfinding:
Taping out floors showing 2m spaces
Countertop sneeze guards for reception and cafes
Vinyl floor stickers for waiting points
Roll up banners
Mirror stickers
Furniture related:
Download our hand wash sheet sample
Wellbeing.
Planning office layouts & changes:
Maximise daylight & exterior views where possible
Keep fresh air flowing
Specify fabric and finishes with antimicrobial properties
Add touchless tech & future furniture:
Doors, lighting, elevators, security systems
Audio/visual equipment
Height-adjustable tables, task lights