Specialist market sector
Your school design & fit-out experts
Whilst every school is not the same, it's fair to say there are a number of similarities of what maybe required within the general school design & fit-out infrastructure.
When considering improvements to your school or an in-situ revamp we believe it is worth considering what other trends are being adopted in your sector & others. Using our 40 plus years of experience in offices, we are now able to bring our experience to your school.
Sector similarity, No. 1
Enhancing your identity
For any school, presenting your staff, students, culture and premises in a professional manner is essential to the mindset of your students and their teachers. Creating that vital first and then long lasting impact is key.
Our design team works closely with you, our knowledge of trends and a careful selection of materials to create the perfect environment to work & grow. Our design team will design everything for you, from a new brand to the interior of a new building.
Sector similarity, No. 2
Space to work, study & relax
Designing a common room to be on trend, functional and robust. Creating a staff space that provides space to relax and work together. 
As school workplace specialists we can help identify where you could save space to increase collaboration areas, improve concentration periods and retain staff retention
Sector similarity, No. 3
Embracing technology
An advanced school is a modern space that is utilising all possible technologies to enhance current working practises and possibilities. Cable management, communication rooms, supported networking systems, cloud and audio-visual systems and more, can free up employees to work more efficiently and productively.
In addition, technology can actively enhance communication between teachers and pupils
Sector similarity, No. 4
Wellbeing
You will want to ensure your students & staff are provided the most emotionally and socially nutritious environment possible. Supporting that environment with furniture that is ergonomic in design, carefully designed lighting and sound-proofing ensures that employee physical health is also supported. Work related stress and mental illnesses now account for over half of lost working days in the UK.
A healthy space supports the physical, mental and social well being of the staff who work within it.
Sector similarity, No. 6
Furniture Solutions
Trends come and go. Longevity and practicality are here to stay. At the moment along with more colourful upholstery, furniture will have softer lines and curved accents. This plays nicely into the fluidity and flow naturally provided by agile working spaces taking centre stage in many offices we are delivering.
Along with desking and seating styles we understand the need for extensive storage in your administration offices, whether it be an inhouse library or roller racking for client files, we've got you covered.
Sector similarity, No. 7
Light & sound
The look, feel and practical use of a space can be totally transformed with the right lighting. The acoustics of a space can also transform its feel and use, particularly if noise pollution is an issue and a noise reduction could enhance the quality of that particular area.
Lighting is transformative in decor, and it is no different with office decor. Effective LUX are essential to any fit-out, out in-house specialist will ensure the right lighting is specified for your needs.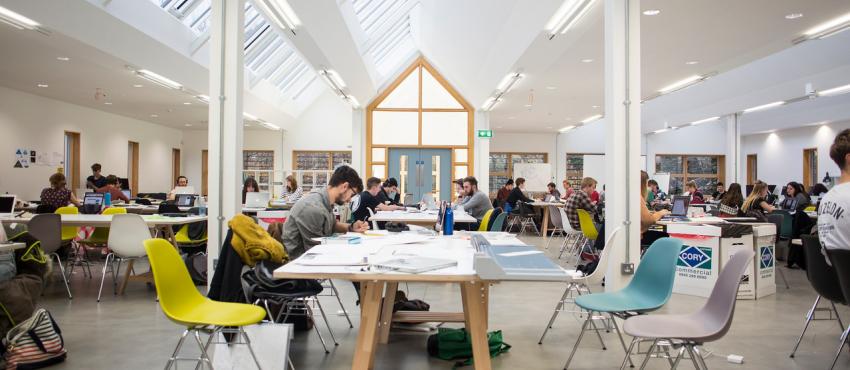 We are delighted be delivering the design and interior fit-out for Future Academies, ready for their move in the summer of 2020. This works have included a complete design and refurbishment of their staff and administration space.